I found some beautiful glass animal sculptures at Johns Hopkins hospital (the most art-friendly hospital I've ever been in) and, having luckily been armed with my camera, instantly fell in love with photographing glass.

The image on the right is one of them: a cute little... fox, squirrel? However, I could only shoot through a window, so all the possibilities of playing with light and perspective (and getting in really close like I like to do) tantalized my imagination.
It's been a while since I've been genuinely inspired by anything and I've needed something good to look forward to, so why not scratch two itches with one stick and have a glass photography art show?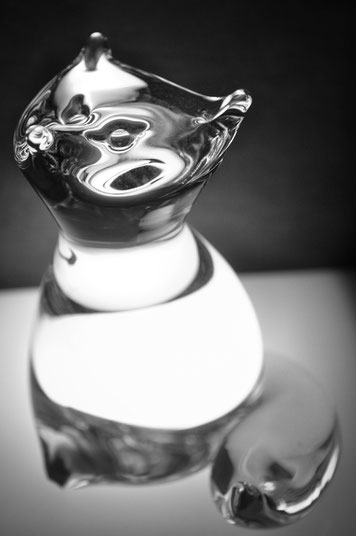 If you are a glass artist (of any kind) I would love to take pictures of your art for my upcoming art show. Here are the deets:

1 - You don't have to make anything new, just have pieces available that I can shoot.
2 - I am looking for pieces that have some kind of flat space that I can zoom in on. In other words, this and this and even this would work, but rods, small pendants and other really small spherical/cylindrical things wouldn't work as well (unless they are particularly numerous). Clear to mostly transparent glass preferred.
3 - I don't know how many pictures I'll use or have any details (or promises) about which ones I would use. I'm letting things unfold as they will to get the most unique results.
5 - What I'm Offering: I'm hoping beyond hope to break even on the show, so I won't be paying people to take pictures of their work, nor am I interested in paying royalties, percentages, etc. I totally respect people who do want that, and someday I would love to be good enough to help support a whole ecosystem of artists, but I'm not there yet. What I am offering is credit (your name or alias on the work if I use it in the show) and exposure for your business or work (you are encouraged to come to the show and pass out business cards and talk about your work). However, I would be happy to give you a 5x7" print of one of the pictures if any are used in the show!

If you are interested, please email me ( gir4ffe@gmail.com ), comment below or send me a message through the message box on the home page. If you know someone, send this page to them!